Founded over sixty years ago, with the acquisition of an estate agency business, JGL has developed and expanded into all sectors of the property market.
Based in the North West the operation now spans the United Kingdom. Some six years ago, under a complete restructuring all activities became combined under one corporate identity and management structure.
As would be expected of an ISO 9001:2015 accredited company JGL embraces every aspect of property management, through residential management, procurement within the UK and worldwide defence industry, JGL has been successful in the award of major residential contracts.
JGL Sporting Links has been at the heart of providing quality residential private housing solutions for many years to the sporting world. Awarded the contract in 1996 by The Royal & Ancient Golf Club of St Andrews to be the sole official supplier of the private housing requirement for the 1996 Open Championship at Royal Lytham & St Anne's Golf Club and this was followed with the same relationship in both 2001 and 2012. Since 2012 JGL have continued to look after all the top management companies and have developed a reputation as the "Go To" accommodation providers for sporting events.
Over the years, firm and lasting relationships have been built within the worldwide sporting arena, corporate clients and the wider media putting JGL firmly at the top of the procurement agenda for the sporting world.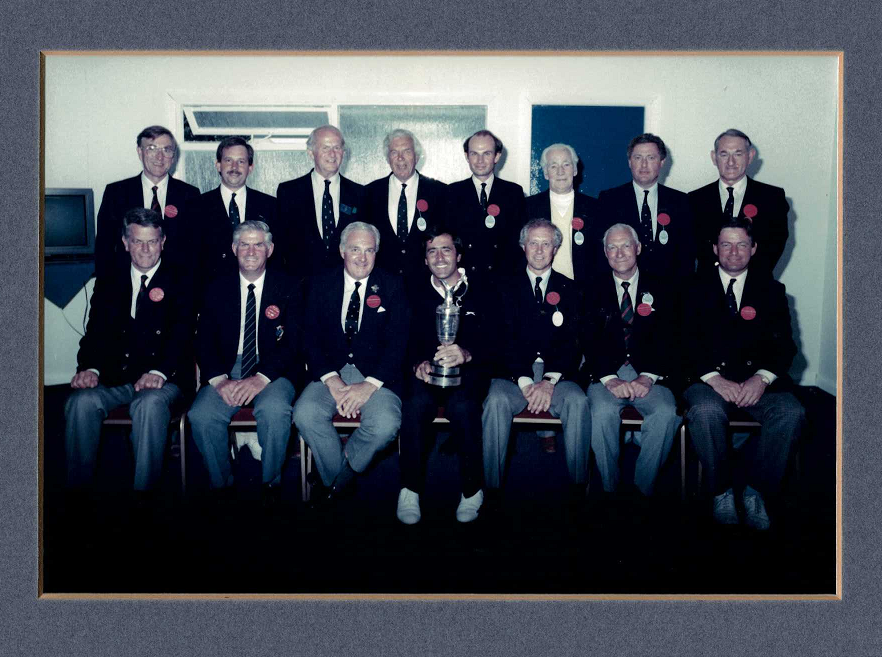 John Lever (top row, second from left) was a member of The Championship Committee in 1988
Returning in 2001 Severiano Ballesteros, who probably did more than anyone else to promote the game of golf, wrote a personal forward promoting JGL, a testament to any company. He was a great ambassador for JGL and will be greatly missed.
JGL Sporting Links operates confidentially, our client list is the envy of any competitor, the events where we now operate now span not only the world of golf, but every sporting event in the United Kingdom.
Our landlords know that JGL is the name that they can trust and so they have the confidence to return again and again knowing that they will be dealt with by our hugely experienced team, dedicated to providing an unrivalled service.
Following another successful Open Championship at Royal St Georges, we are now focused on Hoylake 2023 where we have already let a large number of properties, consolidating our position and welcoming back not only our existing clients abut many new ones as well.
The senior management of JGL are proud of the achievement over many years, as a Company we build, year on year, on the completion of successful events and, as we continue to build our brand, JGL fully anticipate that we will become the UK's leading supplier of private housing solutions for sporting events. A challenge that we seek, and one that we will achieve.
We thrive on service and confidentiality. Our advert is our existing client base many of whom have been with us for over twenty five years.
JGL is proud to have provided accommodation to some of the biggest names in the business!
In our field JGL is simply the best.